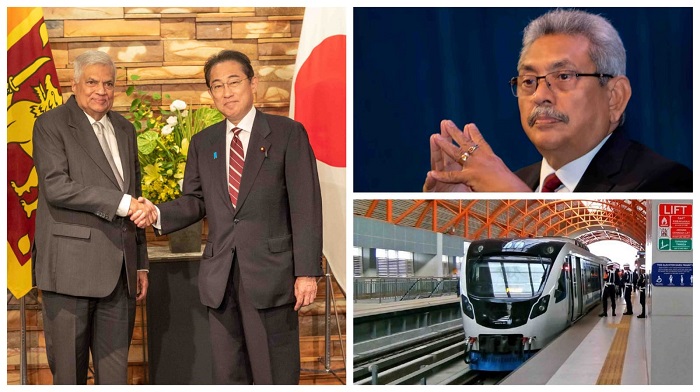 President Ranil Wickremesinghe has expressed his regret to the Japanese Government regarding the suspension of the Colombo Light Rail Transit (LRT) project, which was to be implemented with Japanese support.
According to the President's Media Division (PMD), the President expressed his regret during the official meeting in Tokyo yesterday (25) between President Ranil Wickremesinghe and Japanese Prime Minister Fumio Kishida.
The President emphasized the need for future legislation in the Parliament to ensure that bilateral large-scale projects cannot be halted or cancelled without the agreement of both parties.
The PMD stated that the Prime Minister of Japan warmly received President Ranil Wickremesinghe, and bilateral talks commenced after a friendly conversation between the two leaders.
President Ranil Wickremesinghe expressed his gratitude to Japan for its support in helping Sri Lanka recover from its economic crisis, thanking the Japanese Prime Minister for his assistance.
The leaders also discussed new opportunities to enhance cooperation between Japan and Sri Lanka.
In another meeting held on the same day (25) in Tokyo, President Ranil Wickremesinghe met with Japanese Finance Minister Shunichi Suzuki to discuss Sri Lanka's debt restructuring and the International Monetary Fund's program. 
Subsequently, President Ranil Wickremesinghe met with Japanese Foreign Minister Yoshimasa Hayashi, focusing on strengthening long-term bilateral relations between Sri Lanka and Japan, including increased cooperation in economic and cultural fields.
Additionally, President Ranil Wickremesinghe and former Prime Minister of Japan Yasuo Fukuda participated in a breakfast meeting organized by the Japan-Sri Lanka Association in Tokyo on the same day (25).
During the meeting, President Ranil Wickremesinghe briefed the former Prime Minister of Japan on the ongoing economic recovery program in Sri Lanka. The President highlighted the favourable investment climate in Sri Lanka and extended an invitation to Japanese investors to …read more
Source:: News Wire