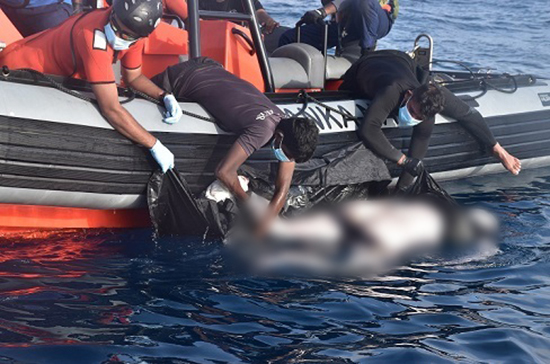 The Sri Lanka Navy says its divers have recovered more bodies from a Chinese ship, raising the number of bodies found by the Sri Lanka Navy to 14.
Issuing a statement, the Sri Lanka Navy (SLN) said that it embarked on a search and rescue operation to assist the ongoing rescue efforts at the sunken Chinese fishing vessel LU PENG YUAN YU 028, in the Australian search and rescue region, south of Sri Lanka.
At the directives of Commander of the Navy, Vice Admiral Priyantha Perera, the Sri Lanka Navy's Offshore Patrol Vessel, SLNS Vijayabahu was deployed with a team of Navy divers to engage in the crucial mission.
As per Sri Lanka's commitment to the International Convention for the Safety of Life at Sea (SOLAS), the Maritime Rescue Coordination Center (MRCC) Colombo established at the Navy Headquarters is responsible for coordinating and facilitating maritime search and rescue operations in its designated region as well as neighbouring regions.
Regional stakeholders had already commenced extensive aeronautical search and surface search in the area of overturned Chinese fishing vessel by the time the Sri Lanka Navy reached the location.
Having reached the location, Sri Lanka Navy divers meticulously searched for air pockets within the upturned vessel, hoping to find any survivors.
After strenuous diving amidst the challenges of zero visibility and enormous water turbulence, Navy divers recovered 02 bodies from the captain's cabin and accommodation area.
In addition, Navy divers recovered 12 more bodies of the crew from various compartments of the vessel.
Due to decomposition and the potential health hazards posed by the operating in contaminated waters with limited protective gear, it was determined that retrieving those bodies would be exceedingly dangerous.
A decision was later taken to map the locations of the bodies, while prioritizing the safety of the SLN divers.
Subsequently, …read more
Source:: Colombo Gazette