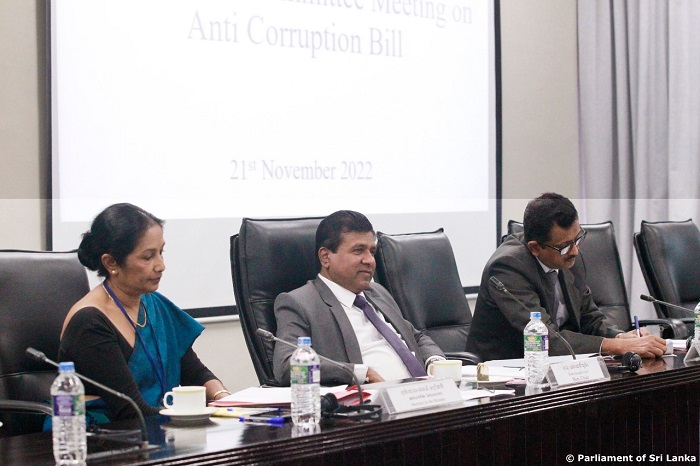 The Ministerial Consultative Committee on Justice has taken up for discussion the proposed Anti-Corruption Bill to be submitted to Parliament.
The Bill which is inclusive of the establishment of an Independent Commission of Inquiry on Bribery and Corruption which is accountable to Parliament was discussed at Ministerial Consultative Committee on Monday (21).
The meeting of the Ministerial Consultative Committee on Justice, Prison Affairs, and Constitutional Reforms was held under the chairmanship of the Minister of Justice Wijeyadasa Rajapakshe.
The Parliament of Sri Lanka said in a statement, that the Minister mentioned that all the allegations of bribery and corruption in the country are being leveled at the parliamentarians representing the Parliament due to the failure to create a formal institutional structure and provide the necessary powers to prevent bribery, corruption, and fraud.
Explaining to the committee about the proposed Anti-Corruption Bill, Sarath Jayamanna, PC said the proposed Bribery or Corruption Investigation Commission will be accountable to Parliament and that the Commission shall submit its progress report to Parliament every three months.
The Bill also proposes to appoint persons with more than 20 years of experience in the fields of law, forensic audit, accounting, engineering, international relations and diplomatic service, and public administration as commissioners of the commission. Commissioners are appointed by the President on the recommendation of the Constitutional Council.
Furthermore, the allocation of money for this commission should be done directly through Parliament, Sarath Jayamanna said.
Additionally, the draft has proposed to establish a separate board of directors to receive asset liability statements and deal with related issues. According to the Bill, it was stated that the relevant minister has the ability to make regulations regarding obtaining asset and liability statements of individuals in areas where corruption and bribery occur …read more
Source:: News Wire